About the RCSGD
The Resource Center for Sexual and Gender Diversity (RCSGD) serves as UCSB's LGBTQIA+ center, and is located on the 3rd floor of the Student Resource Building.
We offer various services and resources to ensure that LGBTQIA+ students, staff, and faculty have the support they need to succeed at UC Santa Barbara and beyond.
Image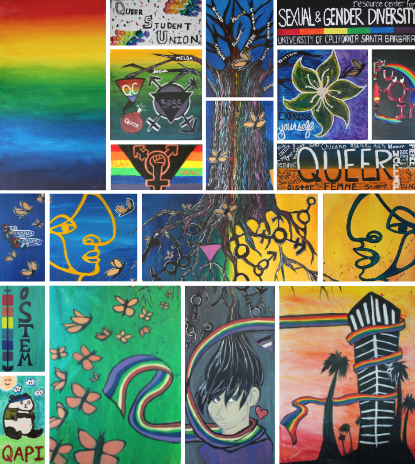 Interested in staying up to date with the Resource
Center for Sexual & Gender Diversity at UCSB?
Events Blocks w Summary & Category
"The RCSGD is like a home on campus to me. No matter how stressful the rest of my world is, I know the RCSGD is there to support me!"

— 3rd year Writing and Literature major, lesbian student
"The RCSGD is one of the main reasons I chose to come to UCSB-- the support I have felt from building a queer community through the RCSGD is unmatched."

— Recent Feminist Studies graduate
"The RCGSD means safety, means a place I can be myself with friends and find community that is always willing to listen. The center provides this safe supportive space constantly, honestly it's one of my favorite places on campus."

— Third-year double major, first-generation student
"The RCSGD has given me a warm, stable spot to land in times of loneliness, academic pressure, and mourning. The lounge, events, and discussion spaces have also given me laughter, joy, and community that I am extremely grateful for."

— second year undergraduate student
"The RCSGD is a safe space for me where I can feel celebrated for my sexuality not scrutinized, build community not be ostracized, and share some giggles with some of the funniest people I know."

— fourth year queer and first gen environmental studies major
"The RCSGD to me is like a second home and it allows me to feel comfortable in my own skin."

— second-year nonbinary undergraduate student in sociology/Chicano studies
"To me, the RCSGD is a place where I was able to experience relief from white, rich, cisheteronomative spaces. It's a sacred space that has helped me expand my chosen family."

— Fourth-year bisexual Filipinx immigrant scholar in Psychological and Brain Sciences